Moving into a new place always gets me excited. I love to browse home design blogs, magazines, and books for ideas to update our current decor. While I love clothes and beauty products, I also have a love for making a calm, well-designed home for myself to relax and work in.
Here are a few things I would love to add to our new place to inject a little bit of color and fun into our new surroundings.
1. Otomi Fabric Pillows
I haven't seen this fabric crop up a lot in home design, but it reminds me a lot of the few years I lived in Arizona as a kid. I love the bright embroidery and the strong, graphic print, and would love a couple of pillows with this kind of pattern for either our bed or couch to brighten things up. I'm not really one for the typical "southwestern" stuff, and this is a great nod to my years spent there, and my love of well-made fabric. It's also something I could probably handle sewing on my own, since I've seen that pre-made pillows on Etsy run well over $100 each.
2. A neutral rug for the kitchen.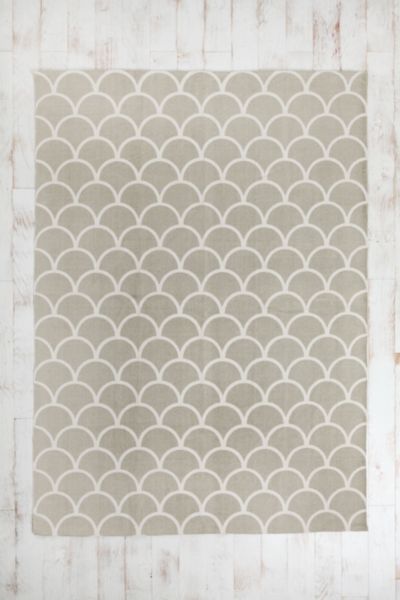 Stamped Scalloped Rug, Urban Outfitters, $24
Our new kitchen is going to be a much-needed upgrade to the one we have now, and with new wood floors, I want to get a nice, neutral rug. Our current kitchen rug is too small for the new place, and it's old and gross. I love the look of this one, and the color is just the right shade to go with anything else I end up adding to the new kitchen. Right now, everything in our kitchen is green, which I might still keep…and this would still work really well with all of it.
3. Botanical Prints
Poppytalk (they offer botanical prints as a free download!)
I have always been a huge fan of using antique prints for wall decor – some of these illustrations are amazing, and on a large scale make for great conversation pieces. We have some large walls to cover, and I want to try to find some great illustrations or posters to break up the super-high ceilings in our living room.
4. Temporary Wallpaper
Top Floral Apartment Temporary Wallpaper, ModCloth, $89
I know that this varies from place to place, but our new apartment complex won't let us paint the walls. In fact, of all the apartments I've been in in Ohio, only one of them allowed us to do that. So in an attempt to inject a little bit more color and pattern into our boring bedroom, I want to try out some temporary wallpaper. This looks like a subtle print that won't overpower a calm space. There are a lot of temporary wallpapers on the market now, and I'm looking forward to doing some more research on them to find ones that will work for our space.
So there you have it – some fun ideas for our new space…wherever that may be!