I thought it would only be fair that, since I gave ideas for the ladies on Monday, I return the favor and give a few idea for the guys.
I'm basing this list off of what I think my husband would like. He's 34, watches football, is a total film buff, plays video games, and is a p90x fanatic. So if your man fits any of these qualities, this list might be helpful. If he doesn't…well, then go buy him some whisky and bacon. All men like whiskey and bacon, right?
1. A chart poster that is related to one of his hobbies.
The Marvelous Mixology of Martinis poster (18″x24″), $22, Pop Chart Lab
Guys love posters. Every guy I knew in college had his walls covered in them. Might as well get him a poster that looks nice in your home and can be useful. My husband has become a recent fan of martinis, so this would be great for him when he's in the mood to try a new one. Pop Chart Lab also has chart posters for heavy metal bands, hairstyles, beers, and other guy-friendly things.
2. A book about whatever alcohol he's into.
101 Whiskies to Try Before You Die, $19.95, Amazon
I know that I'm making my husband look like an alcoholic, but he would really enjoy this kind of book. We have friends that live in Lexington, KY, and every time we visit them, he ends up with a list of new whiskies to try. Books are kind of a crap-shoot with guys – some like them, some don't. My husband is a bit of both. He doesn't read a lot, but likes books that will teach him something. This would be a great one for him, or a beginner whiskey drinker.
3. A nice, but not too nice, watch.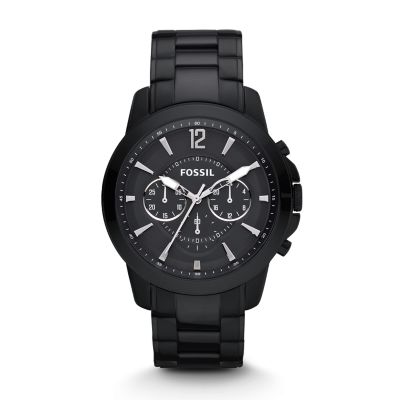 Grant Stainless Steel Watch, Black, $145, Fossil
Since most guys aren't into jewelry, a sturdy, everyday watch is always a good idea. I got one similar to this for my husband for Christmas a long time ago, and he still wears it every day. Every time someone complimented him on it, he bragged up how I picked it out for him. Don't go crazy on getting a really expensive one – get him one he won't be worried about wearing every day. If he insists on getting something diamond-encrusted, or costs more than your car, and he's NOT a rapper – tell him to calm down. Real guys wear watches meant for real life – Kanye West is not the litmus test for how real men should be. So tell him to buy his own blinged-out watch…and make sure to buy you a matching one. 🙂
4. A DVD/Blu-ray set that he likes.
It's Always Sunny in Philadelphia season 7 blu-ray, $29.99, Amazon
If your guy is anywhere between 18-40 years old, and he hasn't watched this show yet, it's worth trying. I think the show is absolutely hilarious, and my husband's a big fan too. Most guys I know have at least one show/movie they're into, so it makes a nice, easy gift. Just make sure it's not something he already has…and make sure it's something you won't mind watching with him. My husband always has to watch any new show/movie I buy him, so I try to find things we'll both like (or I can at least tolerate). If he's into popcorn, get him some popcorn, and make it a TV/movie marathon!
Other DVD/Blu-ray sets I'd recommend:
Game of Thrones
Arrested Development
Kill Bill & Kill Bill Vol. 2
Drive (it's a guy movie with Ryan Gosling…so a win/win for everyone)
5. Lingerie. I'm not kidding.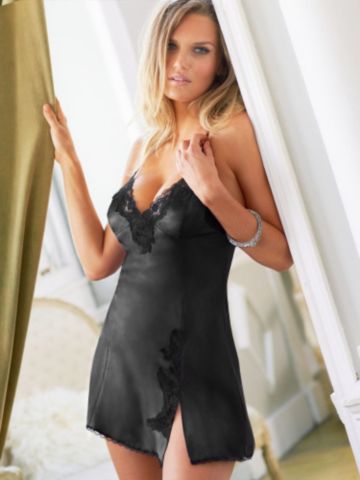 Katherine Satin Chemise, $28, Frederick's of Hollywood
Trust me on this one. You should go out and buy some lingerie. Even if you already own lingerie, go buy some new stuff. This is a no-fail option. You may be cringing at me right now, thinking "I'm too fat/skinny/awkward/my boobs are too small/big/saggy for this." You're not any of those things…at least not to him. Men are total suckers for lingerie, and no matter how you think you look in it, he's going to giggle like an idiot and thank you later.
I'm a huge fan of Frederick's of Hollywood because it's very well priced (especially for something you'll never leave the house wearing), and the people who work there are amazing. This store is catered to women of many sizes and shapes, and they are great at making sure you find something you'll feel comfortable in. You don't have to get all 50 Shades of Gray crazy with it, and you definitely don't have to spend a small fortune on whips and nipple tassles at Agent Provocateur. Like I said…guys are suckers for this stuff, and he'll never know you spent $30 on it. He won't care. Again…trust me.
And…to be fair…things you shouldn't buy your guy:
1. Chocolate.
Lingerie is about the only thing that you can justify buying as a "it's a gift for me, but for you too." He'll see right through your plan, and end up giving all of it to you anyway. Just buy your own damn candy, and get him something else.
2. Jewelry.
NO RINGS! Unless you're with a guy who's cool with getting proposed to (and some are…so make sure to ask), don't go with jewelry. Save that for some other time. You don't want to accidentally get each other necklaces. It'll be weird.
3. Anything workout related.
This really depends on the guy. If he's a workout warrior, by all means get him something he'll use (GPS tracker for hiking, adjustable dumbbells, yoga mat for his p90x, etc.). If he's not in shape or active, DON'T do it. You wouldn't take it well if you were out of shape and he got you a Jillian Michaels DVD for V-day, so don't be dropping those hints to him now. Save that for some other day.
4. Anything with hearts on it.
He's a man. You can do better.
5. This:
If you're not going to be the one cuddling him…just cut your losses and leave the guy. Don't be like Liz Lemon…unless you're guy happens to be James Franco…then I guess this would be just fine. 🙂
Another Valentine's Day gift guide done!
What are you planning to get the man in your life this year?