Happy Monday everyone!
Since Valentine's day is fast approaching, I thought it would be fun to make a list of things I wouldn't be offended to get. I'm not really into the typical "candy and flowers" kind of stuff, so for those of you who are like me, or you gift-buyers who want to branch out, here are a few ideas of things I would definitely like…and maybe you (or your special lady) would too.
1. A nice jewelry box.
Grand Lacquer Jewelry Box, $199, West Elm
I have been looking for a nice jewelry box for about a year now, and this has everything I like – it's simple in design, white, and has enough drawers/compartments to hold everything I would need it to. I don't have a lot of nice jewelry, but this would hold what I do have (mostly from my wedding), and have enough space for a few new things down the road…hint hint.
2. A nice painting / print.
Custom Original Abstract Painting (8″x10″), $55, VelvetThrone on Etsy
I want this for my office…like, really really want this. However, I know artwork can be a very personal thing. I'd suggest if you want something like this, show your partner what you want…or give serious hints about what you like (florals, abstract, oil, acrylic, prints, favorite colors, etc.). Aside from Etsy (which has some cool stuff), I found a few sites that have prints at reasonable prices.
20×200 (*This site is currently under construction, so maybe wait for next year)
Urban Outfitters
Pop Chart Lab
3. A warm, cozy throw blanket.
I chose this one for 3 reasons:
1. It's only $29, so it's easy on the wallet.
2. It comes in 30 different color/design combinations, so there's one to fit pretty much everyone.
3. It's really cold here, and all I can think of is lying under a pile of these.
We have plenty of blankets in our apartment, but nothing that's nice. Sure, the fleece Cleveland Browns blanket I'm currently using is keeping me warm, but it's not something I'd personally pick for myself. I'm partial to the striped options, but they all look nice and cozy to me.
If you're looking for something a bit more plush, Joanna at A Cup of Jo led me to this one from Restoration Hardware: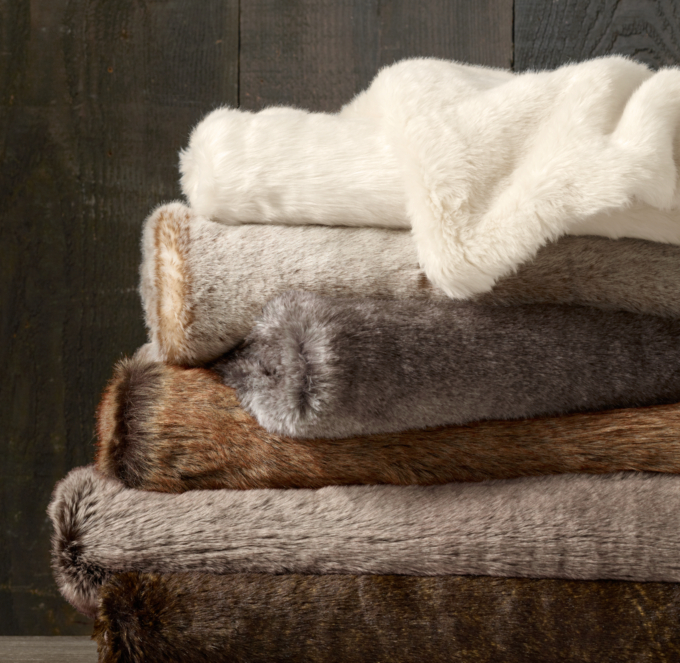 Luxe Faux Fur Throws, $99 to $249, Restoration Hardware
4. Personalized jewelry that isn't cheesy.
Enamel Initial Cuff, $48, C. Wonder
I don't know what it is, but when I saw this cuff I thought it was kinda cool. I'm slowly coming around to the idea that monogrammed stuff, if done right, can work and not seem corny. The idea of getting any jewelry with my entire name on it sounds dumb to me, but something this simple and wearable every day seems fine.
Just remember one rule: If your mom would like it, don't buy it.
5. Leather notebook.
Paperthinks Recycled Leather Notebooks, $17.95 each, Kate's Paperie
As a writer, and a new blogger, I would love a few of these to keep track of notes, ideas, and just to use for fun. I think they'd be a great gift for the overly-organized types out there (you know who you are). Since they're made from 100% recycled leather, and 50% recycled paper, I also feel a little better about getting a leather-bound one.
Also, remember to NEVER buy the following:
1. Clothes
Unless you happen to know your partner's sizes, or they tell you explicitly what to buy, just don't go there – it rarely turns out well. You don't want to be the jerk who gets your wife a bra that's too big, or get your guy a pair of pants that are too small. People take these things personally…trust me.
2. Corny gag-gifts…and ONLY that.
This kind of depends on the couple, but if you have to ask whether or not it's okay to buy only goofy, dumb gifts for your partner…you shouldn't. Pair a gag gift with something more heartfelt, so you don't accidentally come off as a dick or a cheapskate. This goes for dude gifts too – just because he might LOVE a keychain cow that poops candy doesn't mean that he'll appreciate it after spending $100 on flowers and earrings for you. Get him a nice whiskey, cigar, or whatever else he's into – and the cow keychain. He'll get plenty of use out of both.
3. Stuffed teddy bears.
I'm a grown woman…not a 5 year old. You know better. Just…don't.
Unless it's this one:
So…what do you want for Valentine's Day?